THE CHP ADVANTAGE: ENERGY EFFICIENCY. NO POWER OUTAGE DOWNTIME. LOWER UTILITY EXPENSES.
Combined heat and power (CHP) systems, also known as co-generation systems, use natural gas as a fuel source. These systems provide the advantage of lowering utility costs and reducing power disruption threats for structures that require year-round electricity, heat, or hot water.
The technology enables heat, which would be lost during traditional power generation processes, to be recovered and repurposed to generate heating and cooling. Curtis Power Solutions experts engineer one-stop, custom-designed CHP systems with heat recovery steam generators and accessories to create steam and/or hot water.
Conventional Generation vs. CHP: Overall Efficiency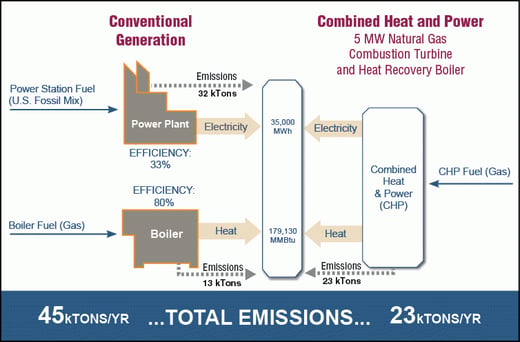 Source: U.S. Environmental Protection Agency
CHP Solutions for a Climate-Neutral Future
Discover the ways that CHP pioneer Curtis Power Solutions has implemented these systems in large commercial and government facilities, and can make a profound difference in your enterprise.
mtu CHP Solutions