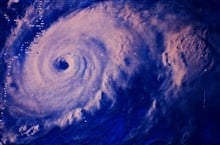 Calling for a near-normal hurricane season, NOAA predicts four to eight hurricanes this year – including two to four major hurricanes. National Hurricane Center data show that at least 13 hurricanes affected Mid-Atlantic states between 1995 and 2017. Many of us have vivid memories of Hurricane Isabel in September 2003, one of the most destructive tropical cyclones to ever hit the Baltimore area. All it takes is one powerful storm to wreak havoc on communities in its path.
We don't know when the next hurricane will arrive – or at what force. But we do know enough to prepare. And now's the time to do so. No business should be scrambling for a generator or requesting urgent service as a big storm advances or passes through. Here are three ways to prepare now for the next hurricane.
1) Weigh the Costs of a Potential Disruption
Each of the top five U.S. hurricanes cost over $50B. Business outages comprise a meaningful share, with estimates of $100K up to $450K for a single hour of downtime for mission-critical IT servers and networks. If you experience an outage for a few hours, days or even weeks in the wake of a hurricane, your costs could be monumental.
For mission-critical businesses, whose loss of electric power could impact human safety or security, the potential cost of an outage extends well beyond financial considerations. There are also local laws and industry codes to comply with. Weigh these costs to help shape your business continuity plan and investments.
2) Select a Standby Power Solution that Fits
For businesses in the hurricane-prone eastern U.S., emergency generators must stand up to high wind and water conditions. There are many solutions available, from temporary quick connect boxes that hook up to mobile backup generators to fully redundant power generation systems.
Choosing the right standby generator can dramatically improve your chances of successfully navigating the storm. First, consider the likelihood that you'll be affected by a hurricane. Then, define your up-time requirements; mission-critical organizations generally need the highest possible measure of reliability. Be sure to consider the power load needed in a sustained emergency and the essential fuel supply should local infrastructure be compromised.
Remember that the temporary generator you need – or fuel for your permanent one – may be difficult to secure on short notice. Especially during a major storm.
3) Install, Maintain and Test Your System – As if Lives Depend on It
Backup generators are part of your business's critical infrastructure. To count on them for an extended outage, they must be properly located and protected. Multiple industry codes, recommendations and best practices agree: install emergency generators at least above previous flooding elevations. The same is true for fuel tanks and related equipment.
Routine maintenance, inspection and testing helps ensure that your power system works when you need it most. At least annually, test the system under facility load to confirm that the system – and the team that maintains it – is ready for emergency conditions.
Hurricanes are a fact of life. Location, timing and intensity are out of our control; but planning and preparation are not. Prepare now for your next hurricane.