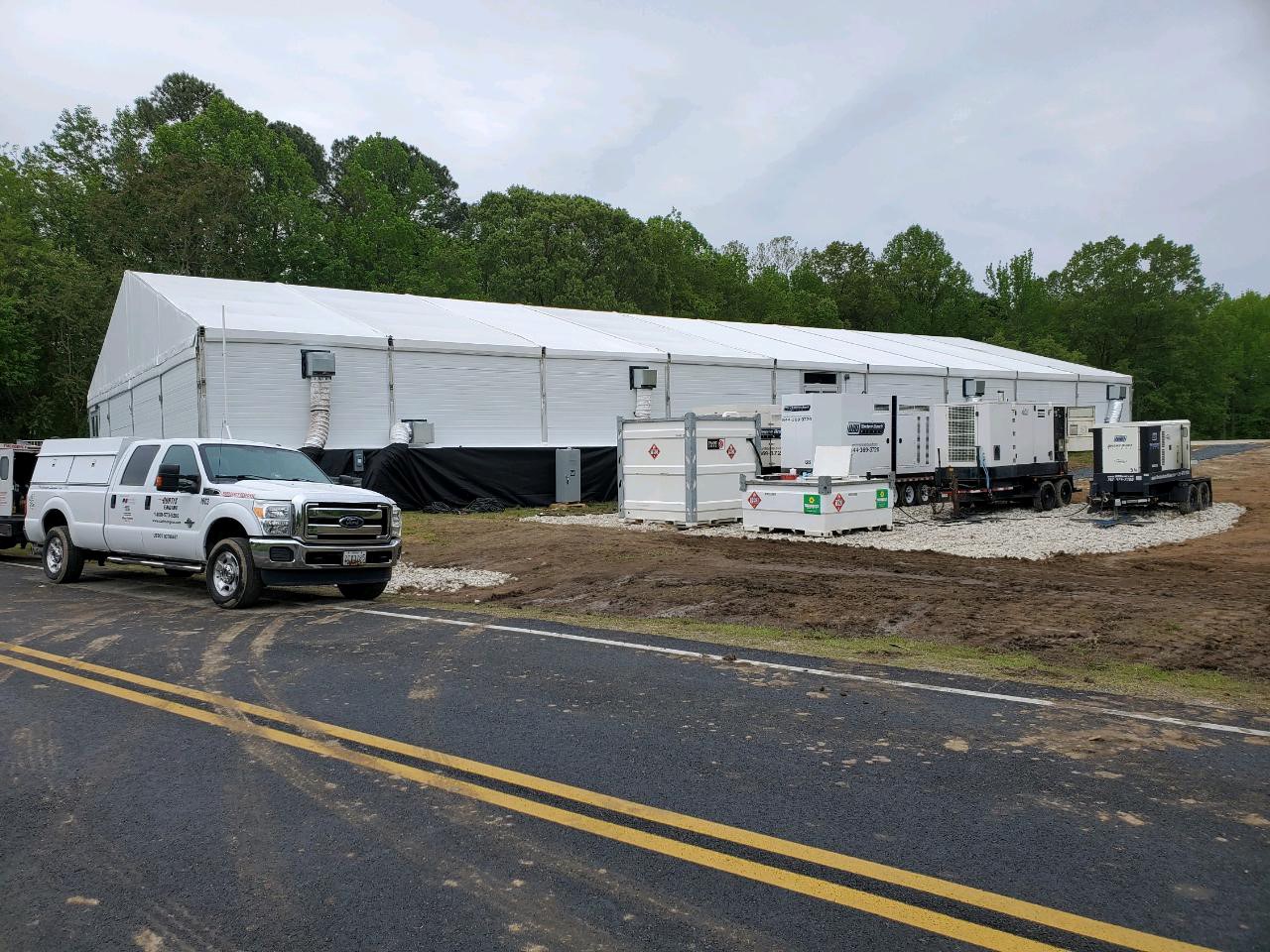 The Fort Washington Medical Center in Prince George's County, Maryland, was the first hospital in the nation in May 2020 to install a modular ICU unit dedicated to the in-patient treatment of people suffering from Covid-19 infection. The STAAT Mod (Strategic, Temporary, Acuity-Adaptable Treatment Modular) units were subsequently installed at six other hospitals in Maryland, and Curtis Power Solutions was selected by the Maryland Department of General Services to provide 17 150 kW generators, automatic transfer switches and fuel tanks to these facilities, another temporary ICU at the Baltimore Convention Center, and two major coronavirus testing stations in the state. Altogether, Curtis Power Solutions currently has 24 units on rent for Covid-19 facilities.
Critical Services During Critical Times
During the evolving Covid-19 pandemic, Curtis Power Solutions is serving a pivotal role in providing critical services throughout the Mid-Atlantic region. The latest drive-through testing sites supported by Curtis are Six Flags America theme park in Prince George's County, Maryland, and in Smithsburg in Washington County, Maryland. Curtis Power Solutions is providing the hospitals and testing centers with normal and emergency power generators, and the team is inspecting each generator every week to proactively ensure optimal operations and to detect any down-time threats before they occur.
Technicians are also checking fuel levels in the generator systems weekly and schedule fuel deliveries with enough lead time to avoid fuel shortages. Said Vice President of Power Gen Sales & Engineering – North Region Alan Koch, "Gaines Oil Company is a trusted fuel provider for us. It's always tough to guarantee fuel delivery. They understand the critical nature of these facilities and are nimble in working with us to stay ahead of the fuel demands."
Hurricane Season is a Double-Threat to Continuity
Alan says that the hurricane season is always a precarious time for the supply of power generators. The demand for this equipment as back-up emergency power is at an all-time high during the season, and ensuring that Covid-19 temporary structures and testing stations have operational and replacement power generators is essential.
Notes Alan, "We recently identified a failure in an older transfer switch during routine testing in one of the facilities. It's hurricane season and our rental department was all out of equipment, so we had to turn to one of our trusted partners to help us get them back up quickly. Our long-time relationship with ASCO Power Technologies enabled us to receive a 24-hour delivery on equipment that normally requires six-week's lead time. This is the power of partnership."
Strength in Numbers
The recent merger with Western Branch Power Generator division has also amped the ability of Curtis Power Solutions to provide rental power generators to customers. The rental team led by Butch Simonetti has been a tremendous asset to the company and to customers and has boosted the in-house generator rental and emergency inventory to 70 units.
Vice President of Service Michele Kratz commented, "During these demanding times, Curtis Power Solutions has been tapped by our customers to perform challenging work during challenging times. With our talented core service team—reinforced by the exemplary Western Branch Power team and resources—we have been able to repeatedly ensure business continuity and life-saving services and equipment to our customers. We're proud that we were selected to provide assistance to Maryland Department of General Services in responding to the Covid-19 threat, and stand ready to support our business partners in the future."