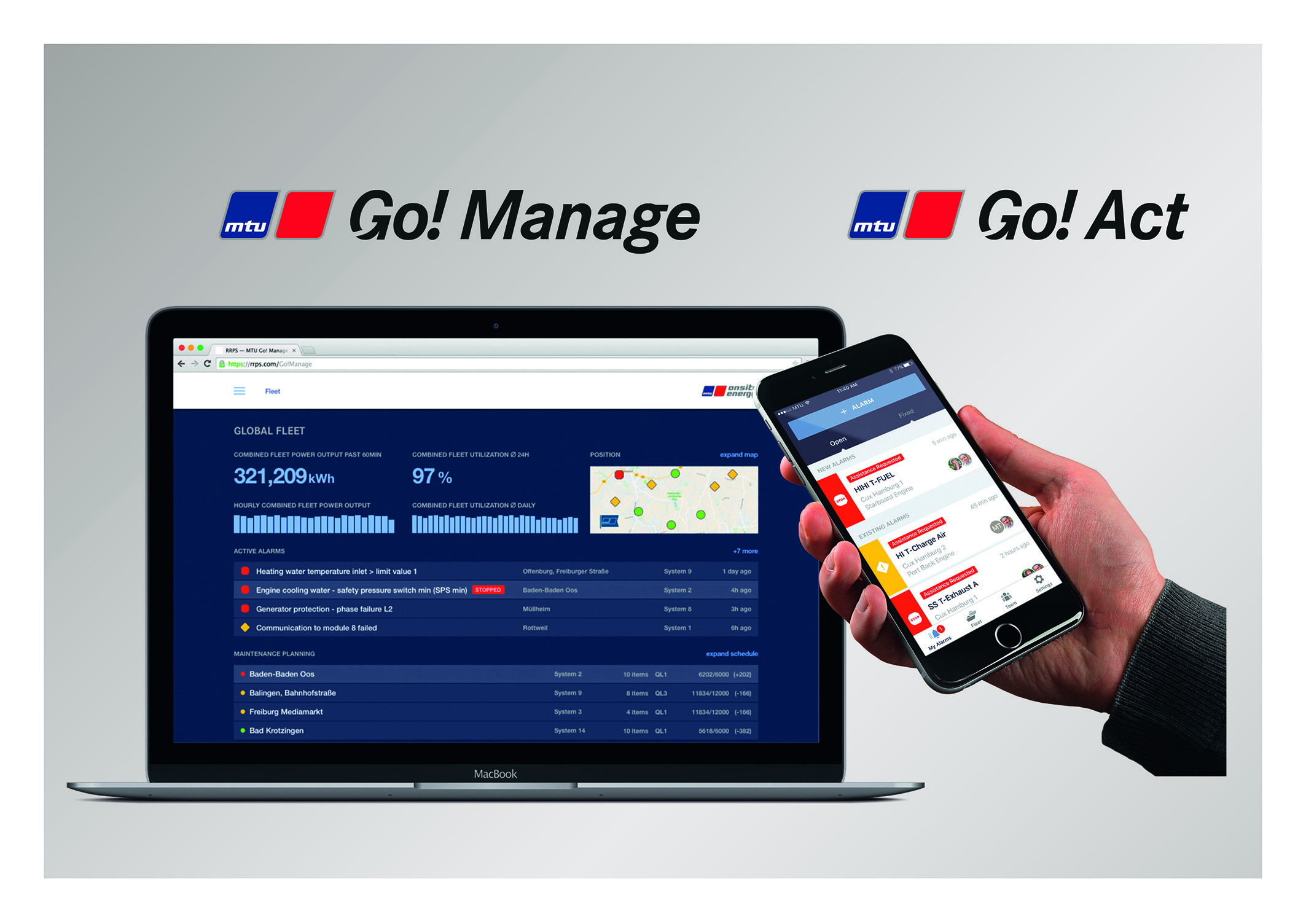 Rolls Royce Power Systems Digital Solutions unit has launched a number of digital products such as the MTU Go!Act smartphone app and the MTU Go!Manage web application to provide operators and managers of MTU-powered equipment with analysis of operating data from connected equipment.
MTU Go! Manage and MTU Go! Act are digital applications developed by the new Rolls-Royce Power Systems Digital Solutions division, which in partnership with MTU's Customer Care Centers, aim to transform the company's approach to global customer service. These apps connect engine systems through data loggers, enabling MTU experts and customers to monitor the engines remotely, analyse operating data and determine recommended actions to improve the operation and long-term care of MTU products.
From proactive failure prevention and intelligent troubleshooting to instant failure support and smart maintenance planning, digital solutions unlock the full potential of your MTU Onsite Energy system.
MTU Go!Act for smartphones alerts customers to any faults that may have arisen in connected systems and enables them to identify and eliminate the fault quickly.
Receives push notification of failure codes from connected assets
Provides operators with vital information about failure codes
Supports event reporting with convenient photo capture functionality
Enables direct communication with fleet managers or the MTU service personnel
MTU Go!Manage is a platform that links up a customer's system to the data base and significantly improves communication with MTU partners, distributors and the Customer Care Center. It primarily targets users such as fleet managers, operators and MTU service personnel, and can be accessed online with terminal devices like laptops and tablets. By analyzing specifically selected data, users are then able to improve plant operation, process fault messages, plan maintenance schedules well in advance and monitor the health of their fleets.
Provides a live overview of fleet, asset and engine conditions
Displays active and closed alarms
Enables interaction and communication with on-site staff via Go! Act
Shows maintenance schedule, with completed tasks clearly marked
Supports remote troubleshooting via multigraph
"Digital products mean we can now use our systems to link up far more effectively than before to help our customers operate their products better and avoid incidents," said Jörn Lindstädt, Director Global Customer Service at MTU.
How it Works
Dataloggers continually transmit the relevant data to the MTU Go! platform via cell phone networks. Here, the information is stored, processed and held for retrieval as needed so it can be utilized by customers and MTU specialists alike. The information is accessible by smart phones via the MTU Go! Act app or by computers, notebooks or tables running MTU Go! Manage.

"These new products are a whole lot more than just remote fault reporting systems. They safeguard communication between operators, service staff and specialists, consolidate information at a single location and help customers and our company to optimize product operation," emphasized Jürgen Winterholler, who heads MTU's Digital Solutions section. "Cyber security and data protection have been assigned the highest priority. This is an area where we also benefit from the experience gained in the course of the last 20 years by Rolls-Royce in the aerospace industry," Winterholler added.
For more information about MTU Onsite Energy's Digital Solutions products, including integrating MTU Gas Systems into the MTU Go! platform, please contact us or visit the MTU Onsite Energy website.