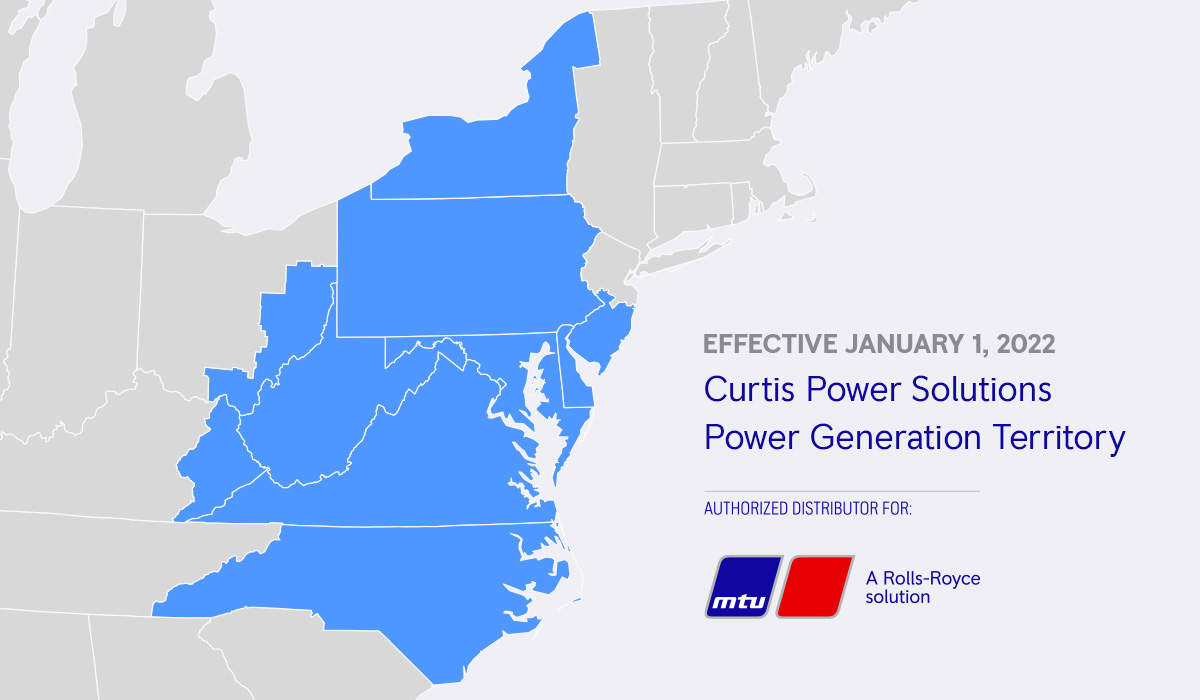 As 2022 comes to a close, Curtis Power Solutions (CPS) is pleased to trumpet our expanded, stronger presence up and down the East Coast. In 2023, we are looking forward to leveraging our extended reach to provide world-class power generation equipment sales, parts, rentals and services for commercial, institutional, and government customers from the Canadian border all the way down to North Carolina.
Our new, bigger footprint started to take shape on New Year's Day 2022, when Rolls-Royce Power Systems awarded CPS the entire state of Pennsylvania and the western and central regions of New York State for mtu power generation sales and service. Our New York presence now extends from the Canadian border in the north, through Syracuse and Rochester in central part of the state, across the Southern Tier, and on to Buffalo and the Niagara Frontier in the west.
New York product sales and parts & service operations are being run out of our new 7,498-square-foot facility located just east of Buffalo in suburban Cheektowaga, N.Y., close to the Buffalo Niagara International Airport.
Then, with the acquisition of Alternative Power Sources, Inc. (APS) on March 4, 2022, Curtis Power Solutions gained an instant presence in western Pennsylvania, including the Greater Pittsburgh area, West Virginia, and eastern Ohio. Large high-end customers AT&T, Verizon, and Comcast are within a 200-mile radius.
Moving forward, what does the expanded CPS East Coast footprint mean to current and prospective powergen customers?
"I think where it really comes into play is with the larger groups that we work such as data centers, hospitals, apartment and condominium complexes, government buildings, engineering groups, etc. that cover multiple offices across several states," said Paul Koch, Senior Sales Executive at Curtis. "Where there is a powergen need, we most likely have technicians in or near that immediate area."
Heading into 2023, Curtis Power Solutions has never been better positioned to leverage our outstanding track record as a one-stop integrator and solutions provider for power generation equipment and services. From standby power systems to sustainable energy technologies, application engineering support, rentals and parts & service expertise to keep your equipment in tip-top condition, Curtis Power Solutions has the East Coast covered like never before.