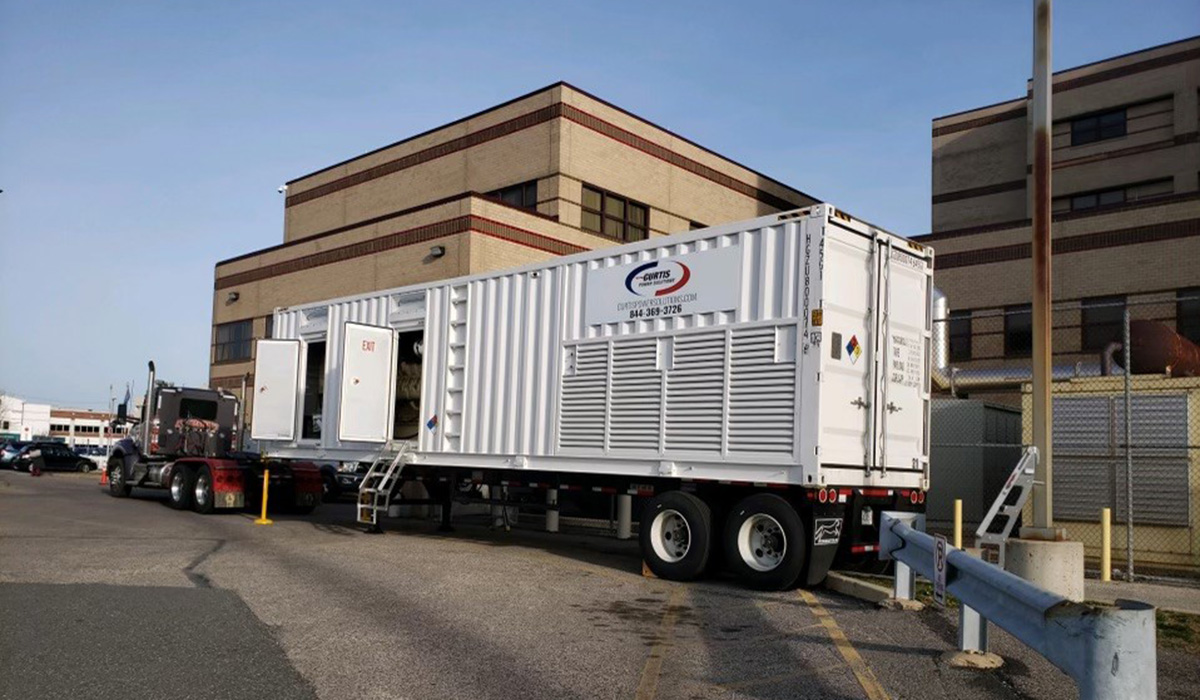 Hitting the road! This February, the Curtis Power Solutions Rental Generator Department purchased and received a second 2 meg rental generator – and has already secured its first two stops on a lifelong journey of providing power.
On Saturday, February 25, the brand-new unit (Unit 21) left Portsmouth, VA, heading north for its first project in Philadelphia, PA. It arrived at St. Christopher's Hospital for Children early that same evening and our team got to work right away – finishing all prep work that night. The seamless delivery and setup ensured everything was in place for the project to begin on Tuesday, February 28.
For this project, Unit 21 served as backup power for part of the hospital while our service team repaired the cooling system on one of their 1500 kW backup generators. Having a rental unit provide backup power is critical to ensure there are no power lapses during repairs, guaranteeing the safety of all patients and personnel.
"All projects with permanent loads at mission critical sites are a little nerve wracking. You can't have any mishaps since so much is counting on the unit," says Alan Mills, Sales & Rental Manager in Quakertown, PA. Working with a quality product like mtu generators goes a long way to calming those nerves.
"There weren't any complaints whatsoever. The generator worked perfectly throughout the project," says Alan. Unit 21 performed exactly as it was supposed to, running uninterrupted for approximately six hours, with nothing but positive feedback from the customer.
The CPS team completed the project on Friday, March 3, and Unit 21 arrived at our Fredericksburg, VA location on Wednesday, March 8 to await its next job – which came sooner than expected.
On Monday, March 20, Joe Cintella, Territory Manager in Fredericksburg, VA, received a call from a local data center whose backup generator failed. The data center is a secure facility in Manassas, VA and they needed a rental unit to supply backup power while their generator undergoes repairs. Our team was able to deliver Unit 21 that same afternoon, where it will remain until repairs are complete.
Stay tuned for more updates on Unit 21 as it continues servicing customers across our territory on its lifelong journey of providing power.