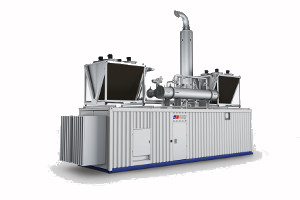 Co-generation, also known as Combined Heat and Power (CHP), is the on-site production of multiple types of energy — usually electricity, heat and/or cooling — from a single source of fuel. While co-generation is not a new concept, we are seeing renewed interest in CHP systems as a viable way to make facilities more resilient while reducing energy costs and helping to meet sustainability and emissions reduction goals.
Once primarily used by large, complex manufacturing facilities, modern CHP systems have become more compact, efficient, environmentally friendly and affordable. Facilities that have around-the-clock electricity demand require high levels of power reliability and can use the waste heat generated as a byproduct of the electricity production are prime candidates for a CHP system. We are fielding more inquiries from hospitals, government facilities, universities and large commercial building owners who are interested in exploring the benefits of on-site CHP systems.
Benefits for Energy Users
Cost savings from increasing efficiency, lowering peak electricity costs and using waste heat to reduce fuel costs.
Financial incentives such as grants, tax benefits, low cost financing and revenue from the sale of electricity or heat.
Improved power reliability and flexibility to operate independently of the grid.
Benefits to Society
Increased security to protect critical facilities from power disruptions resulting from severe weather or attacks on the grid.
Reduced costs for new infrastructure such as power plants, transmission lines and substations.
Reduced congestion in the electric grid, and related costs and price differentials.
Greater diversity of the energy portfolio and helping achieve clean energy goals.
Lower emissions by burning less fuel than conventional energy services.
Benefits for Policymakers and Grid Operators
Increased energy efficiency and reduced energy costs.
Greater achievement of environmental goals.
Enhanced energy infrastructure and blackout prevention.
Improved energy security and supply protection against disruptions to the grid.
Incentive Programs
Recognizing a range of benefits, state and federal policymakers have developed programs to incentivize and encourage the use and development of CHP systems in the U.S. The programs typically offer funds and assistance to help conduct feasibility studies and develop projects. The U.S. Environmental Protection Agency (EPA) and the U.S. Department of Energy (DOE) have created CHP partnerships for this purpose.
The EPA CHP Partnership website provides a great deal of information about co-generation applications, benefits, markets and technologies. It even includes a helpful preliminary screening tool for the early stages of developing a project. Additionally, the DOE has created regional CHP Technical Assistance Partnerships (CHP TAPS) to promote and assist in transforming the market for CHP. These groups offer complimentary screenings, technical assistance and expert advice to help determine if CHP is a good fit for your site. Consulting engineers and equipment suppliers who have experience with CHP technologies are also good resources to help evaluate the feasibility of a CHP system for your facility.
For additional assistance, contact your regional CHP TAP for guidance or contact us to speak with one of our CHP application engineers.