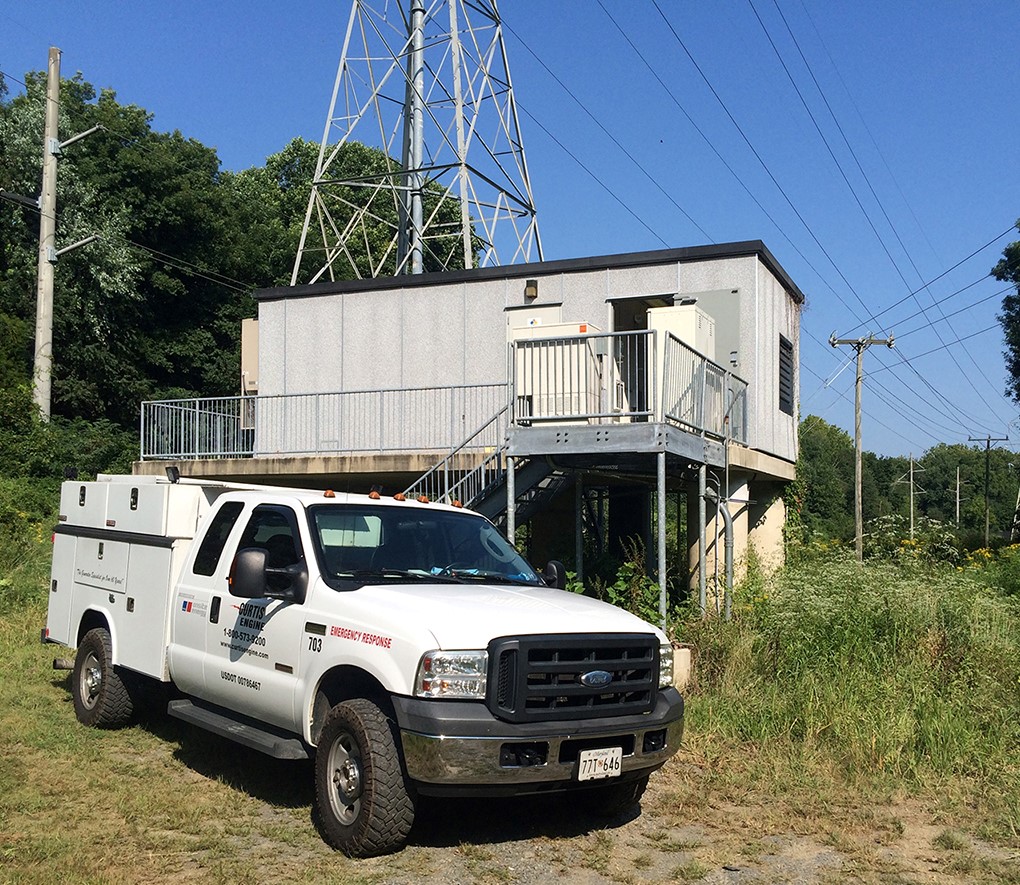 Service Team Tested by Tropical Storm Isaias Power Outages
Curtis Power Solutions has recently expanded its eight-year presence as a wireless cell site service provider to one of the nation's leading telecommunications companies, adding southern New Jersey, Delaware and eastern Pennsylvania (including the Philadelphia metro area) to a region that already includes Maryland, Virginia, West Virginia and Washington, D.C.
This expansion is the result of a contract extension that increased the number of wireless cell towers serviced by Curtis Power from 1,600 to more than 2,900. Also covered by this contract are 60 mobile generators.
The new contract has increased Curtis Power's service team for this customer by four new technicians strategically located in New Jersey, Pennsylvania and Delaware. The service vehicle fleet has also grown with the purchase of four new trucks.
The expanded team is responsible for all routine and annual maintenance, repairs and emergency callouts (if equipment fails) in the service area. Routine maintenance includes full oil and filter change, inspection and transfer testing of automatic transfer switches (ATSs).
Paving the way for the contract expansion were the close professional relationships that Curtis Power service techs have developed with the customer team. "A crucial quality for a generator service provider is having clear communication with the customer. That means asking the right questions," said Chris Robinson, Service Operations Manager. "Before we drive an hour to a site, it's essential that we have a clear understanding of what is going on so that we can be prepared with the needed parts and diagnostic tools."
"We look forward to building new customer relationships in the expanded service area," Robinson added.
Meeting the Emergency Response Challenge of Isaias
The Curtis Power Solutions service team was quickly put to the test by Tropical Storm Isaias, which knocked out power to more than 1.4 million people in New Jersey alone. Said Robinson, "We quickly shifted gears to emergency response in our contract service area. Six experienced technicians alternated shifts 24 hours a day for 3 days through tropical storm conditions to provide coverage and support. At many remote sites, it was a challenge to gain access." Robinson credits the customer team with providing Curtis Power with accurate site and generator information which helped coordinate the emergency response.
During a week's time, said Robinson, "We visited around 160 sites and pumped over 7,000 gallons of fuel. Logistically, that was the biggest challenge. We also deployed six mobile generators in our normal service area plus another five units outside our contract area in northern New Jersey near the New York border."
Robinson commented, "The fact that we can handle such a colossal customer for eight years and build their trust to almost double the number of service sites should give our customers peace of mind. You can be confident that we can handle anything – even disasters."