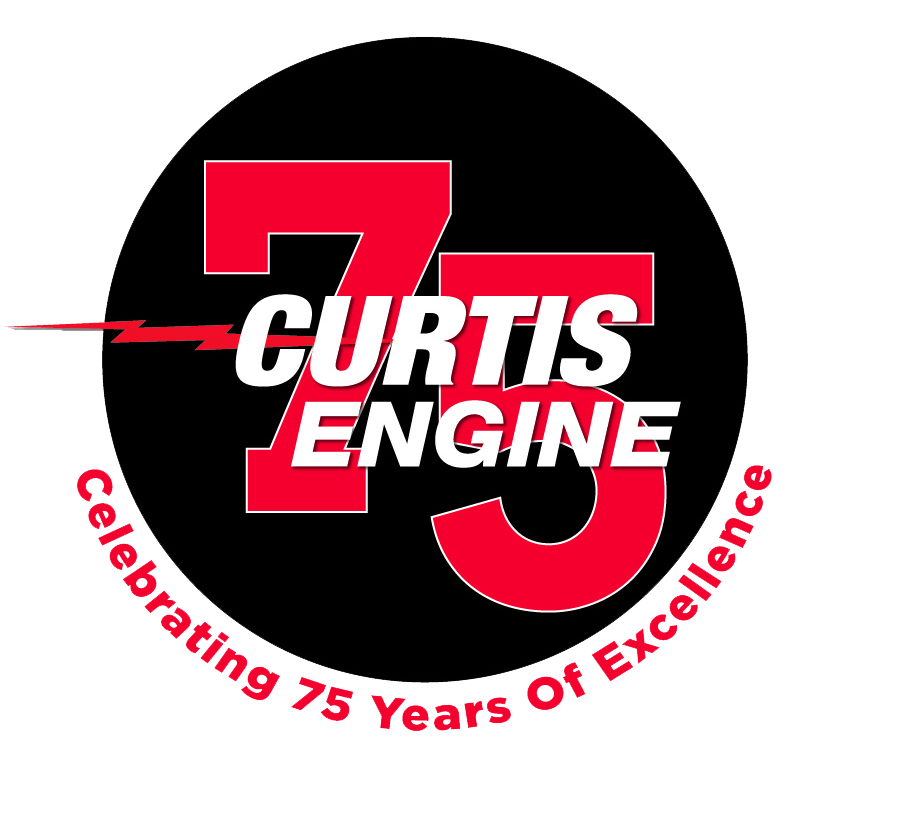 Baltimore, Md. — May 14, 2019 — Maryland Governor Larry Hogan was the guest of honor at the recent Curtis Engine ceremonial ribbon-cutting event that celebrated the 75th anniversary of the Mid-Atlantic regional power generation solutions provider. The event, which kicked off the company's anniversary celebration, took place on Friday, May 10. The event was attended by employees, executive leadership and the board of directors of Curtis Engine along with members of the industry news media.
Curtis Engine President and CEO Trip Harrison welcomed Governor Hogan and Curtis Engine co-owner R. Michael Gill, who served as Maryland Secretary of Commerce until his recent return to private business.
In his introductory remarks, Harrison said, "For 75 years, we have been serving customers who cannot be without power and providing products and services that help ensure that hospitals, data centers, schools, airports and other critical facilities and government operations are not left in the dark during storms or utility outages."
Governor Hogan, in his prepared remarks, said, "I want to extend my sincere congratulations to the entire Curtis Engine team on this incredible milestone. Starting in Baltimore City in 1944 and growing into a thriving, respected, and highly specialized distributor of generator sets, engines, and switchgear is an amazing Maryland – and a uniquely American – business success story."
The Governor then presented Harrison, Curtis Engine COO Paul Koch and Gill with a Governor's Citation honoring Curtis Engine's 75th Anniversary.
After the Governor did the honors at the ribbon-cutting, Gill observed, "To have that kind of longevity, a business must be resilient and have excellent leadership. It has to do quality work on a consistent basis. And customer service must be excellent. For 75 years, these qualities have defined Curtis Engine."
About Curtis Engine & Equipment Co., Inc.
Founded in 1944, Curtis Engine & Equipment Co., Inc. (Curtis Engine) is a highly-specialized provider of world-class power generation equipment sales and service for healthcare facilities, educational institutions, government agencies, data centers and other mission-critical facilities.
The company is unique in the Mid-Atlantic region because it focuses solely on power generation for commercial, institutional and government customers, offering a full range of distributed power generation equipment from leading manufacturers such as MTU Onsite Energy (a division of Rolls-Royce Power Systems) and ASCO Power Technologies.
Curtis Engine is committed to employing military veterans, and the in-depth training program and "work hard/play hard" family-centered culture attracts and retains an exceptional customer-centric technical staff.
For more information, visit https://www.curtisengine.com/
###
CONTACT:
Bill Holleran
Holleran Communications
301-996-9495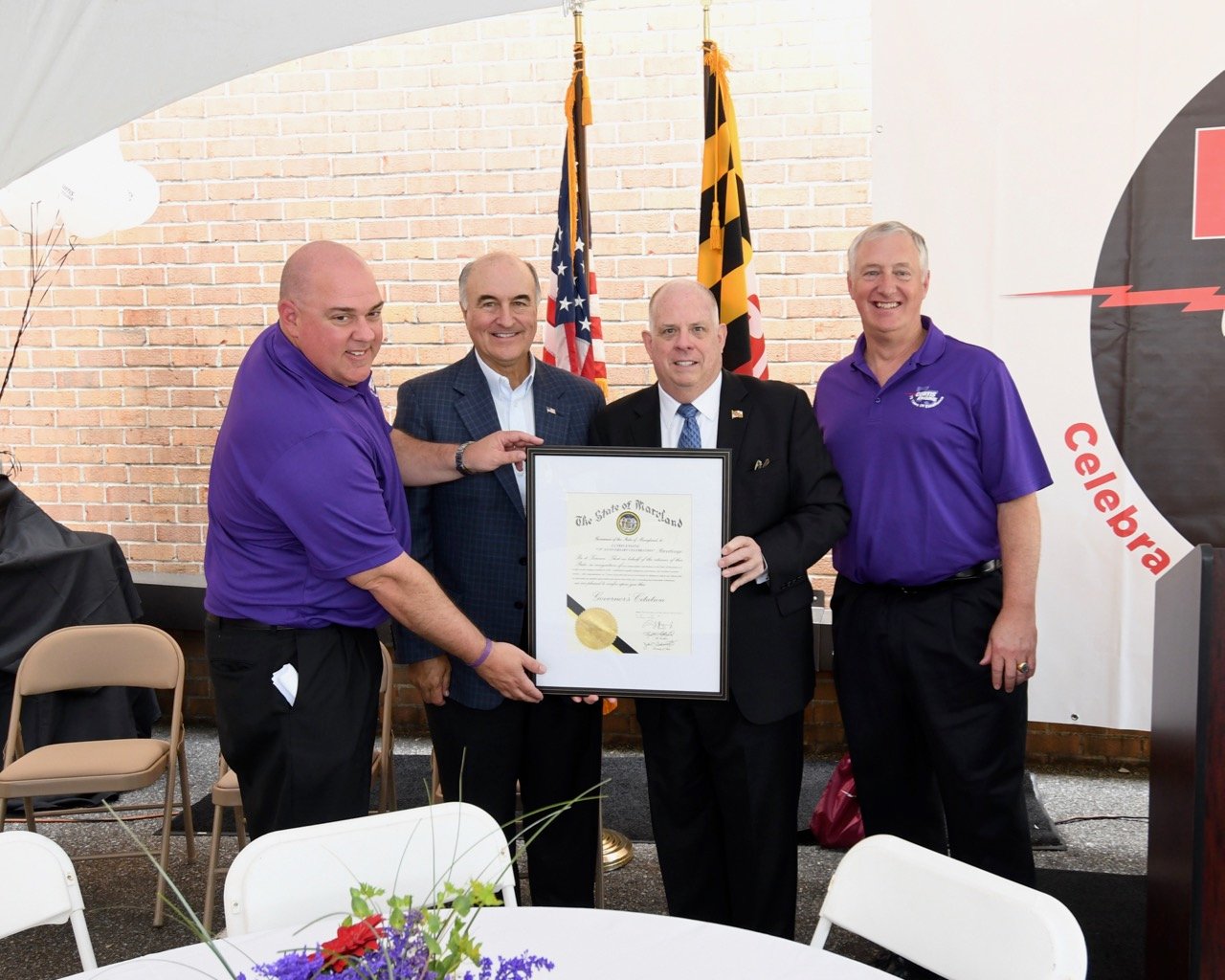 Maryland Governor Larry Hogan presents a Governor's Citation honoring Curtis Engine's 75th Anniversary to (from left): Trip Harrison, President/CEO; R. Michael Gill, former Maryland Secretary of Commerce; and Paul Koch, Chief Operations Officer.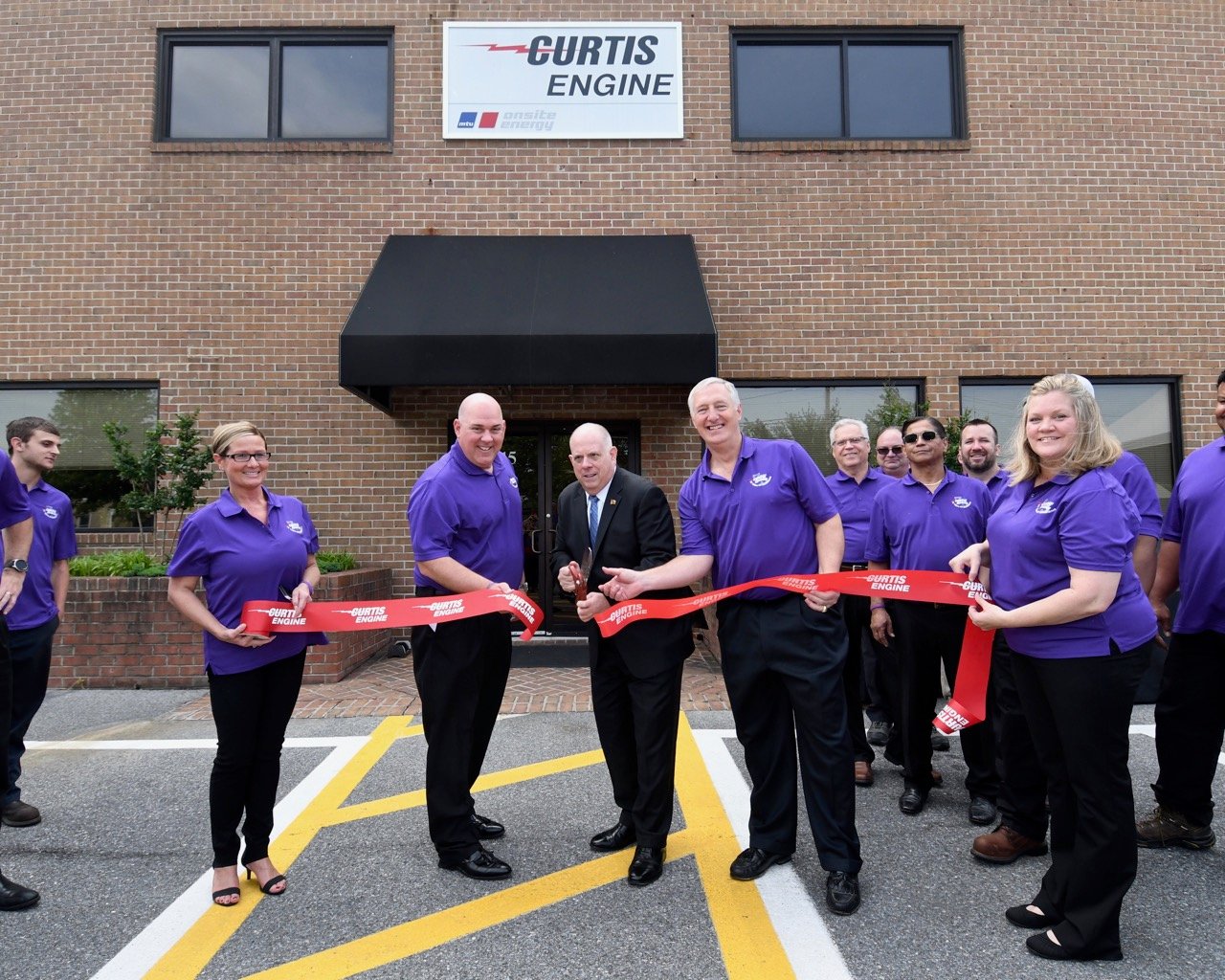 Maryland Governor Larry Hogan does the honors at the recent ribbon-cutting event kicking off Curtis Engine's 75th anniversary celebration. From left: Michele Kratz, Service Manager; Trip Harrison, President/CEO; Paul Koch, Chief Operations Officer; and Jen Bowers, Accounting & Human Resources Manager.